Wayne Gretzky Signed & Framed The Show Picture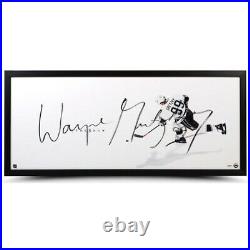 "The Show" features a custom acetate overlay of Wayne Gretzky with his oversized autograph that takes up approximately three squared feet of the image. It is by far the largest signature of Wayne Gretzky that Upper Deck has ever produced. This breathtaking 46"x20" framed display shows Gretzky passing the puck as a member of the Los Angeles Kings. #99 has inked his massive signature in black.
The Wayne Gretzky's three-foot signature was witnessed under Upper Deck Authenticated's Five-Step Authentication Process. Product depicted for demonstration purposes only and is subject to change without further notice.